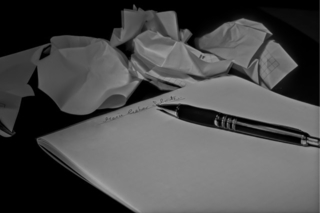 Inspired by: Writer's Block
Occasionally,
there are spells
when,
you have to compel
the homeless mind
to somehow find
a reasonable rhyme
in which
you could fit;
the unarranged
disfigured
and discoloured
bunch of thoughts.
But,
the mental friction
does not sanction
the end
of this sluggish trend
and eventually,
some patchy amends
are all that you can provide
to a hopelessly disorganised
and crumpled
piece of poetry.
© Chandra S.
---