October 8, 2020•172 words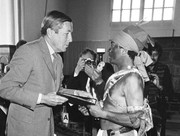 In 1987 Moluccan artist Willy Nanlohy discovered that his basement exhibition at the Westfries museum was linked to the main exhibition about the VOC, where J.P. Coen was praised as an important historical figure throughout the whole exhibition, and in the form of a statue.
On the opening of Nanlohy's exhibition, he communicated his frustration by covering all his pieces of work in black cloths as an expression of mourning. A group of Moluccan people secretly entered the opening to hand out pamphlets, while Nanlohy officially handed a detailed coverage of Coen's deeds to prince Claus.
30 years later, there is still reason to mourn. I'm mourning because Coen's deed to protect the Dutch trading business on the colonized Banda Islands made him deserve a statue. A celebratory statue of a historical figure that is responsible for genocidal actions, leaving only 1000 of the 10.000 Banda inhabitants alive.
Celebrating historical figures, silences historical tragedies.